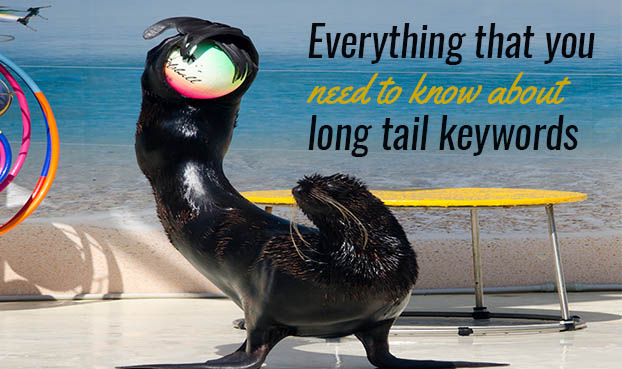 Competing for the first spot of Google or Bing is a long journey that does not often end with success. It is complicated. It is expensive. It takes time.
I hear people say "I want to be on the first page of Google for "insert a single keyword here."
Unless you have loads and loads of money and time, this is a terrible approach. It is not impossible but it sure is difficult to rank on the first page of Google for a specific word.
Face it, it can be difficult for a small brand to compete against a large brand in SEO rankings.
Free Bonus: Click here to get access to a free PDF reference document so that you will have quick and easy access to the tools referenced in this blog post.
Unless you follow the method of long tail keywords.
---
Long Tail Keyword: This is essentially a phrase that people are searching related to a keyword.
This is a great moment to discuss Long Tail Keywords
A good example: "blogging" versus "get started blogging."
---
It may seem counterintuitive for me to use such a phrase for SEO because I wanted to rank for the phrase "blogging." However, that word is so broad and so many people are using it online that it makes for a naturally more difficult rank. Therefore, you want to get a bit more specific in your keyword attempts, hence the long tail.
One of the top money making podcasters, John Lee Dumas of Entrepreneur on Fire, explained in an interview how he gets 1 million podcast downloads a month. He does not release an episode and then get 1 million downloads.
No.
He has recorded almost 1,000 podcast episodes and those downloads are spread across all of those episodes.
Basically, he is not trying to compete on one super fab episode but across the board on multiples and hoping that a specific topic will resonate with a person and they will listen.
I see this as a way to compete on long tail success. He has almost 1,000 episodes on a variety of specific topics. His hopes that a large volume of people will find the specific item they are interested in and listen.
Still need convincing?
Consider this: someone who is searching a very specific phrase is far closer to converting into your next client.
Someone who is searching on Google for "bicycles" is just shopping or writing a term paper.
Someone who is searching for "bicycle sizing chart" is most likely far closer to buying a bike.
Below are a few examples of how long tail keywords work in search.
Just one final point before we get into how to find those sweet, sweet long tail keywords.​
The graph below (from Moz) provides a visual representation of the long tail keyword and the power.
The key takeaway is that long tail keywords account for 70% of internet searches.
This is why you want to be answering those specific searches with your blog.​
Great News!
It is far easier to rank for long tail keywords than it is to rank for generic words.
Long Tail Keywords done right will likely increase your time on site stats. When you provide a reader with an answer to their very specific search, they are likely going to stick around and actually read.
​This is why you should take these long phrases seriously in your blog.
Warning! If you use these to just "bait" a reader into your blog (called keyword stuffing), you are not only losing a real chance at a client conversion but you will also increase your bounce rate.
How do you find long tail keywords that you can use?
The Google Keyword Tool
In the image below, I used the Google Keyword Tool to do research on two phrases: blogging and blogging tips.​
Note: The competition column does not refer to how easy or difficult it will be to rank on a keyword. This shows us how a level of how many people are bidding on this keyword for ads.
I do believe that it is worth keeping a mental note about how valuable the folks paying for ads consider a certain keyword. While it doesn't help you in ranking, it does give you a feel for what others find valuable.
This is how I use Google Adwords to find long tail keywords
In the Keyword Planner there is a tab called "Ad group ideas" and I use it often. ​
Once I verify that I'm on the Ad group ideas tab, I select on the ad group for the keyword phrase that I want to learn more about.​
Then I will see a list of long tail keywords associated to "blogging tips."
This is a rich list of possible blog post ideas and long tail keywords that I can easily craft a few blog posts around.​
Note: These keywords have what you may consider a low search number but remember they also include your primary keyword (in my case "blogging").​
Google an online course and see what it offers
I picked up this tip from Backlinko and it is a darn good one, I just broadened it a bit.
​Go to Google and do a search on your generic keyword + course.
Once you find a course, look around to find out what the course covers. Each of those bullet points could be a blog post. Use these bullet points to do some keyword research and see what more you find.
Use Google Suggest for even more long keywords for your blog
If you do a search in Google, a list of related searches at the bottom of the page.
​This is a rich list of long tail keywords that you could use for your blog.
If you are feeling spicy go ahead and click on one. Then scroll down and see what other suggestions you find. ​
This is a paid tool but it will find some free options that is extremely helpful with in-depth features.
This tool will provide you long keywords from several platforms including Google, YouTube and Bing.
Keep in mind that these are individual searches.​ So go ahead and do a search for the same keyword on each platform.
Note: You can copy the results for all of the keywords that it found into your computers clip board. You will need to immediately paste these into a document, such as an Excel spreadsheet.​
​
Soovle is a comprehensive long tail keyword tool
I just recently learned about this tool and I am so grateful that I did.
You type in a keyword or a keyword phrase and they will show you suggested results from Google, Wikipedia, Amazon, YouTube, Bing, Answers.com and Yahoo all at once.
Be careful with this tool, it is a bit addictive.​
In my previous post I shared four tools to help you come up with a blog post idea. Now we just covered how to find long tail keywords to find specific searched topics to write about.
I hope that this tips have helped you and that you write some awesome blog posts.
But before you go, I have a few tips and recommended reading.​
Tips on Using Long Tail Keywords:
1. Change them slightly to fit proper grammar
2. Always make sense and add value first
3. Focus on one phrase and build around it
​Recommended Reading
I have learned so much from this site including a couple of the tools mentioned above.
This guy is such a rock star and I have learned a great deal from him. I highly recommend that you check out his site.
​
SIGN UP BELOW TO GET YOUR
FREE REFERENCE GUIDE
You will have a list of the tools mentioned in this post and a guide on how to use them for your blog.