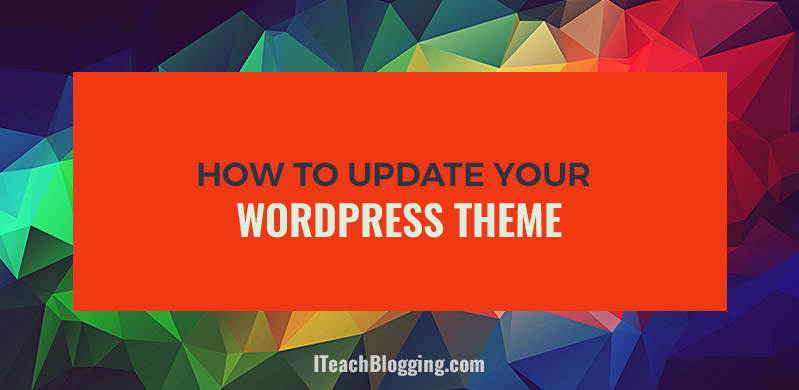 Hackers are annoying!
Frankly, I just don't understand them. Well, the ones who hack a bank and take some money, at least we know what they are after.
The ones that make me really crazy are the ones who do it purely for the sake of doing it.
Several years back, I got a totally freaked out phone call from a client. Their website was flashing what looked like arabic and Bin Laden. It was truly a terrible moment, I will not deny.
This was the first time that I had seen such a hack and it was my job to fix it. It was bit chaotic but we got it resolved.
Trust me though, you don't want this to happen to you. Truth is though, you can take precautions but you can never 100% guarantee that it won't happen.
The best precaution that you can take it is to keep your site updated. Today I am going to show you how to update your Theme.
Before you update your theme
No matter how awesome your site is setup, sometimes thing go awry. A few tips before you update your theme.
1. Backup your blog first.
There should be absolutely no problem when you backup your theme but those are so famous last words. So be safe and backup.
Note: I am hosting my site on Siteground and they do nightly backups on my behalf. If you are hosting with them or another host that does night backups, then update your theme in the morning. This way if something goes wrong and you need to do a restore, you didn't lose half a days work.
2. Save any special code.
If you have done any special CSS code or anything of that nature, save the code in a notepad.
Note: Do not save this into a Word document because it messes with code and makes it weird.
How to update your WordPress theme
​
How to update your WordPress theme
2016-05-03 15:18:14
Ingredients
WordPress Theme
Instructions
Log into WordPress
Click on Appearance
Click on "Themes"
Click on your theme
Click on Update
I Teach Blogging https://www.iteachblogging.com/
Conclusion:
The backend of WordPress can be quite a busy place. It is jammed with warnings ands notifications. It can be quite easy to become blind to all of it. However, it is critical to check in from time to time and see if your theme needs to be updated.
Most of the time these WordPress theme updates are critical because they often have important security updates. Finally, if you have a developer that does maintenance on your site, just ask them if they have updated your theme lately.
My Favorite Blogging Tools That I Use Daily: